ARE YOU IN THE WORK OF HIM?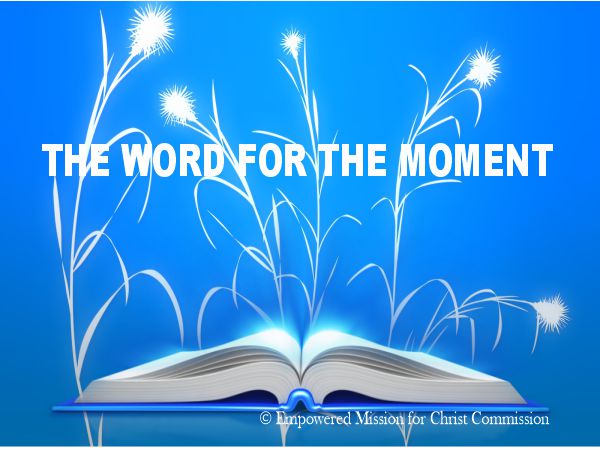 TOPIC: ARE YOU IN THE WORK OF HIM?
TEXT: JOHN 4:31-43

Jesus was committed to the divine assignment given to Him by God. He said, "…I must work the works of Him that sent Me". Are you in the assignment God called you into? What are you doing for God to warrant Him commending you a faithful servant? Do not be like the man born blind in John 9:1, do not be like him. Do not be blind to God's purpose for your life, whether secular or spiritual, not everyone will be a pastor, but we are all evangelists to spread the Gospel. Not only that, there are some called to be medical doctors, engineers, policymakers, entrepreneurs, politicians, advisers, etc; they are all called by God for His purpose and glory. The question to ask is, this work that I am doing, is it in line with the Will of God written of me?
Don't be blind to God's will. If at the end of life, you stand in the presence of God to give an account of your stewardship and Heaven play the videos of your journey and works on earth and the actual Will written of you, what is going to be your reaction if it is not in line or aligned? You know, there are sins we committed that we do not know are greater sins even more than fornication or adultery, it is the sin of not being in the Will of God. Christ was committed, while His disciples went to buy food, He met with a Samaritan woman and preached the Gospel to her. In the midst of all these, His disciples came to offer Him food; He refused and told them my food is to do the Will of Him that sent me. Are you committed to the Will of God for your life? Do you really know His Will? Beloved, night come when no man can work. Night cometh when you cannot go out anymore to preach the gospel even though you love to. Night cometh when you can no more be a chorister or an usher in the vineyard of God. Night cometh when your ability to drum in church will no longer be needed, but it is your money and network that the people in church and around rely on.
Beloved, night cometh when you can no longer go out for that business, when the night of Jesus came, He died on the Cross, He could no longer go to Samaria or must need to pass through. If He had not used His days to work the works of Him that sent Him, we won't be here claiming His discipleship. He worked and has mandated us to do the greater works. So what are you doing? Are you in His assignment? Let the zeal for His house and works consume you while it is day, so that when night comes, you can look back to give glory to Him and meet Him in glory too. Beloved, save this in your archive you MUST work the works of Him that sent you while it is day.
Word Affirmation: "My meat is to do the will of him that sent me, and to finish his work - John 4:34 (Don't just say it, mean it!)
"Night comes; it is coming fast and will surely come; so what's going to be your reaction when it eventually comes."

Central Truth