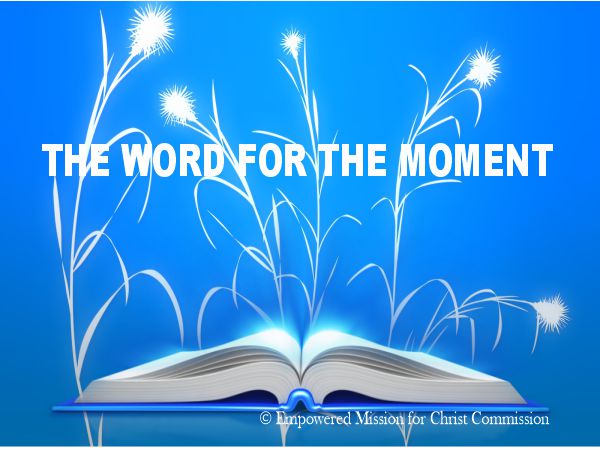 THE UNTHINKING PEOPLE (2)
The unthinking people forget things easily. In Exodus 20, God warned and gave them Ten Commandments, three of which include, "Thou shalt have no other gods before me. Thou shalt not make unto thee any graven image, or any likeness of anything that is in heaven above, or that is in the earth beneath, or that is in the water under the earth: Thou shalt not bow down thyself to them, nor serve them: for I the LORD thy God am a jealous God, visiting the iniquity of the fathers upon the children unto the third and fourth generation of them that hate me". Who suppose to commit all these to memory if not the Israelites? No! God is not in their memories. Is God in your own memory? Or your thought, actions, behaviours, talks suggest there is no God? This is dangerous to you as it was for the Israelites in their days; they were destroyed in the wilderness. The man who says there is no God will surely experience the wrath of God on the Day of Judgement. You can escape this wrath if you will accept Jesus Christ as your Lord and Saviour and come to God the Father through Him.
The unthinking people are prone to mistakes and errors, Prophet Aaron asked them to break off their earrings which took them less than a day to make a new image they bowed to. Assuming the thought of God was in their hearts, would they ever thought of other gods? That's the unthinking people, the best decision they can easily make only leads to mistakes and destructions. Before you do that thing, it is better to think before you take that decision. Is God in it? If God is not in your decision, the Devil is interested in your destruction.
The unthinking people miss the future. "For as he thinketh in his heart, so is he…" – Proverbs 23:7. The man who never has the future in mind today will not get there. There is no man who has ever got into a destination without first thought of it. Whatever in one's possession has once been in his heart, a little bit of thinking bring additional values to life. The Israelites never thought of their end, they lived as if there is no tomorrow and they ended their journey in the wilderness.
The unthinking people are unpredictable, they can be easily swayed. They are changeable and cannot form any opinion of their own. They rely on others to help them take life's decisions. They have no ground in life, as they are not even sure of the one they stand. The unthinking people are double-minded people condemned by the Word of God. They will never receive any good thing from God because they are unstable. "But let him ask in faith, nothing wavering. For he that wavereth is like a wave of the sea driven with the wind and tossed. For let not that man think that he shall receive any thing of the Lord. A double minded man is unstable in all his ways" – James 1:6-8.
Word Affirmation: " But the God of all grace, who hath called us unto his eternal glory by Christ Jesus, after that ye have suffered a while, make you perfect, stablish, strengthen, settle you – 1 Peter 5:10 (Don't just say it, mean it!)
" If God is not in your decision, the Devil is interested in your destruction. "

MIND THIS