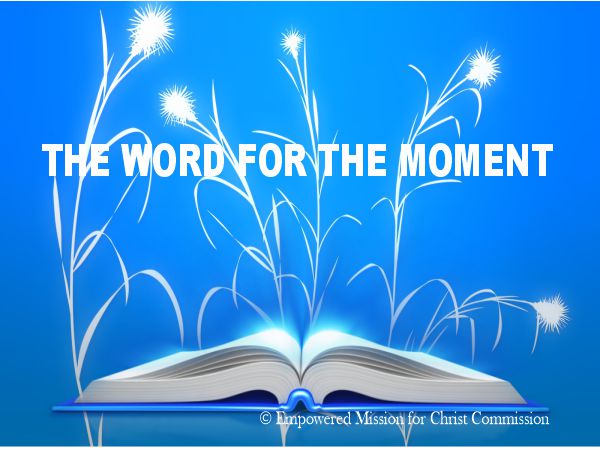 TOPIC: BECOMING CHRIST'S SHEEP
TEXT: PSALM 100:1-5

The life of a sheep is very simple, always going in the direction where the shepherd leads. Christ called Himself the good Shepherd and everyone He calls out of darkness into God's marvelous light He calls His sheep. The Psalmist in his ninety-fifth chapter said, "…we are the people of his pasture, and the sheep of His hand." In Psalm 100 verse 3 he repeated: "Know ye that the LORD He is God: it is He that hath made us, and not we ourselves; we are His people, and the sheep of His pasture." God made us and we are His, but nowadays it is difficult to differentiate who a sheep of Christ is from goats, though the Lord knows those who belong to Him and His fold. It is interesting to note that in Palestine it was very difficult to tell the difference between sheep and goats. They looked the same. Therefore, how do we recognize who is a sheep? Or if you are Christ's sheep, do you do the following:
A sheep eat what the shepherd prepares or where he led them to eat. A good sheep eat what the shepherd prepare and whichever of them eat where it suppose not to causes grief to him, his staff will be the comfort of the sheep though it is painful. Therefore, whose voice are you listening to? Where do you eat from, from the Word of God or the world of gold? You need to understand a sheep does not drink from running or rushing waters also, it quenches it thirst from still waters. In case there were no still waters, the shepherd will create still waters from the running waters so as the sheep to drink. Therefore, as a sheep of Christ, how do you make your pasture (business, home, office, affairs) green? If you are the type that loves quick return scheme or get-rich quick, you are not his sheep; such is a goat that drinks from running waters (Psalm 23:2).
A sheep get restored because it ways are straight and smooth. As a child of God, your ways must be right, you must live your life according to the pattern of the Lord who is the good Shepherd. You may realize that lots of people in Christendom behave contrary to the Word of God, it takes only one sheep to do a thing and the rest will do the same. Paul admonishes us today, "Be thou an example of the believers, in word, in conversation, in charity, in spirit, in faith, in purity." What sort of example are you? You must become a good sheep so as to be in His fold. Your ways, life, dress, conversation, etc must conform to that of the good Shepherd. There are great benefits in becoming Christ's sheep, hearing from God, believing every word you hear from Him and constant obedient will aid your becoming God's sheep.
Word Affirmation: "Surely goodness and mercy shall follow me all the days of my life: and I will dwell in the house of the LORD for ever." - Psalm 23:6 (Don't just say it, mean it!)
" If you are the type that loves quick return scheme or get-rich quick, you are not his sheep; such is a goat that drinks from running waters. "

MIND THIS